[Home]

[Page 2]

[Page 3]

[About Myself]

[Mark Wolfman Books and Self-Publishing]

[Monsters, Folklore, and Wild Things]

[Heavy Metal Page]

[Health and Sexual Info on DMD]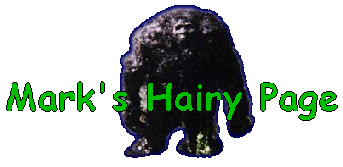 ---
[Home], [Page 2], [Page 3]
My Philosophy
As the days grow shorter and the time comes closer, remember how fun it was to live and to celebrate who you are. If you have love in your heart, every day you live is a holiday. It does not ever have to end, as long as you keep today in your heart. Maybe life will go on, and days will pass by, but nobody can take today away. Not even tomorrow can do that. Even when you no longer live in this world, today will always exist. Yesterday may be history, but it only marks the measure of time spent on our world.
---

To see every one of Van Gogh's documented paintings, visit [VanGoghGallery.com].
---
This section is for those who like heavy core music. KoRn is not for the light-hearted, but it is a very cool page. Their message clearly is a fight against sexual abuse and persecution. This stuff is serious, and seriously may knock you out into the next dimension. You'll need Netscape 3.x or Internet Explorer 3.x, or more. Got a nice sound card with Internet Explorer? Use Netscape or Opera? Go to LiveUpdate and download Crescendo, first, unless it's already there. Listen to Eye Of The Beholder, by METALLICA. Primus also does Metallica The Thing that Should not be. If you're crazy for it check this out.
---
Don't you think Metallica and the music industry are being a bunch of pussies over MP3's and Napster? All people are doing is using another format not unlike cassette tapes, Mini-disk, or radio.  Often when you buy videos there are warnings against copying for profit or showing movies in a bar, etc, but giving away music has never been illegal. Why should it be now? Let's all go attacking new technology that may help people survive this chaotic world? No! Don't give in to a music industry that wants to control what we listen to and who gets to listen to it (such as rich people only).

Damn, USA radio for monopolizing music stations and formats and playing music that only aged coffee over-dosed politicians could like. Where is the new age, celtic, indie, ska, and reggae music found? Not on Minnesota stations, or Iowa. Only on: Napster, Gnotella, Streaming Internet Stations, eccentric record shops, foreign countries, and on Pay Radio (coming soon. Hey, didn't we go through that with cable TV, and don't you hate the lack of good commerce-free content? Face it, commercials are back and we are paying to see them! Look at that cable TV/Satellite bill!) Pay radio, help me, is another gimmick, to control us like cattle. You'll love it for 10 years, and hasta la vista, bebe!
---
Environmental Statement
As far as the world, it seems to be getting scary. Is it me, or is the air on Earth getting a bit stuffy? With El Niño going on, and the deforestation. . .uh, people, start investing in trees, and don't let your religion say the end is here. What you do here and now will affect the timeline, on Earth,  heaven, or maybe in your next life. If it is God, I think he'd appreciate any efforts you made to help improve his creation. If it is reincarnation, in your next life you may appreciate what you did in your last life. If you are an atheist, well then, think about your kids, or other people for a change.  God helps those who help themselves. Those who can't help themselves, it is your duty to assume responsibility.
---

My page is Blue Ribbon for free speech. I still wonder about people who advocate censorship and have so much to hide. I tend to wonder about a stupid war based on people being different. Now I know what "Made in Yugoslavia" means: Cheap Ethics. Could it be another Wag the Dog?

 Don't let the whole internet turn into "Leave It to Beaver!"
---
Mark's Hairy Page, artwork, manipulating of images and sounds, the production and maintenance done by Mark T Schager.
---