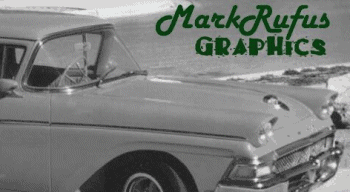 ---
For Your Photo Scanning/Webpage Creation Needs:
MarkRufus Graphics, Inc.
To get your pictures, drawings or documents on the internet or on your computer without spending a ton of money, send your pictures and I will scan them. If you include a self addressed stamped envelope I can send your pictures back. Then I can email your picture files to you for no extra charge, or send them on a floppy disk for a small fee. I also charge a small fee for each picture. If you are unable to afford my fee, please send email with an explanation, and we can work something out. Please check out my *invoice for specifics. If you are interested feel free to print out the invoice. I will do nudes, artwork, pictures for music groups getting on the web, and web pages. If you have pictures, info and background images, I can design a page for your website. Here is a *sample of my work.
Kinko's Copies does charge $19.95 per picture, or 30 cents per minute if you do it yourself. Kodak charges $19.95 to develop pictures on a photo cd. My fee is lower and will be of considerable quality. I use floppy disks, or email for quicker results.

---
To inquire about picture scanning, or webpage creation and publishing, send an email to: markzman@usinternet.com or Markdude@aol.com
Also, if you have pictures you would like to donate or sell to Mark's Disabled Adult Page, that you would like to appear on the net, read the disclaimer on The Ratpage Link below. This page is non-profit.
MarkRufus Graphics and Mark's Disabled Adult Page are in no way related to one another. It was, however, designed by MarkRufus Graphics, which will bear no responsibility for its contents.

---
Links created by MarkRufus Graphics
*The Ratpage (the disability adult page),
---
---
My page is Blue Ribbon for free speech. Kill the CDA bill, and other manifestations of it. They violate the rights of adults and those with disabilities, most religions, as well as sensual material, and also waste our time and money on irrelevant political gain.


Mark's Hairy Page, artwork, manipulating of images and sounds, the production and maintenance done by Mark T Schager.